Wednesday Briefing: From DXY, Gold to Latest FX Headlines; March 15, 2023
US Dollar Index Overview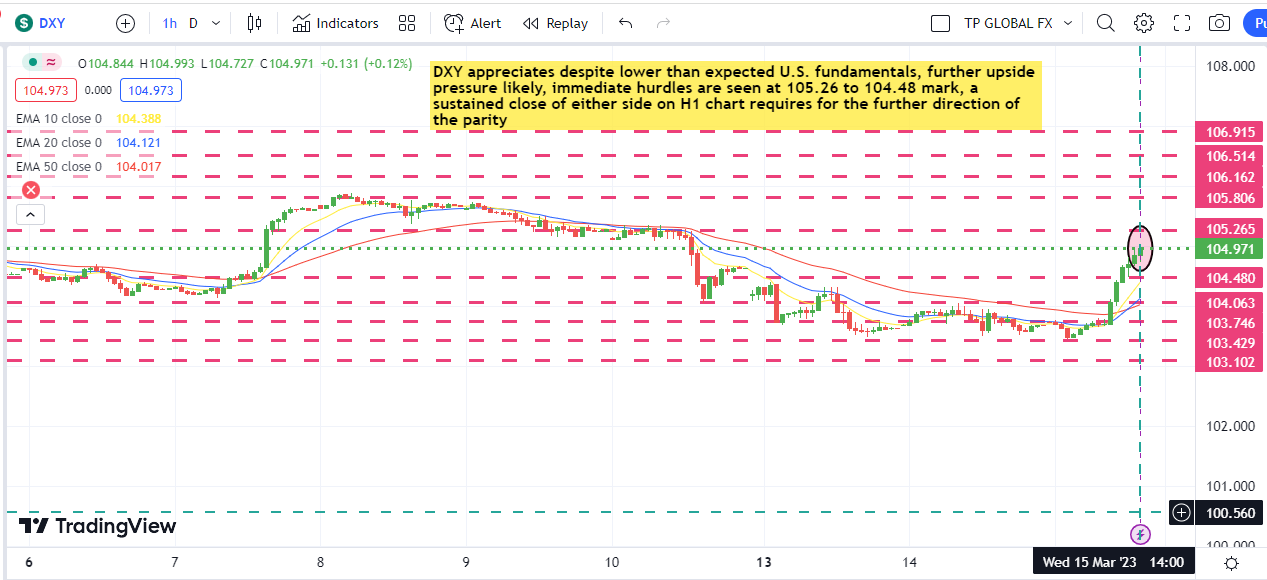 DXY remains volatile after U.S. CPI data and slips back below 104.00 mark.
It made intraday high at 104.04 and low at 103.49 mark.
A day Chart is up and H1 chart with triple EMA suggests down trend for the time being.
Immediate hurdles are seen at 104.31 to 103.56 mark.
A sustained close of either side on H1 chart requires for the further directions of the U.S. dollar.
Technical Analysis: XAU/USD (Gold)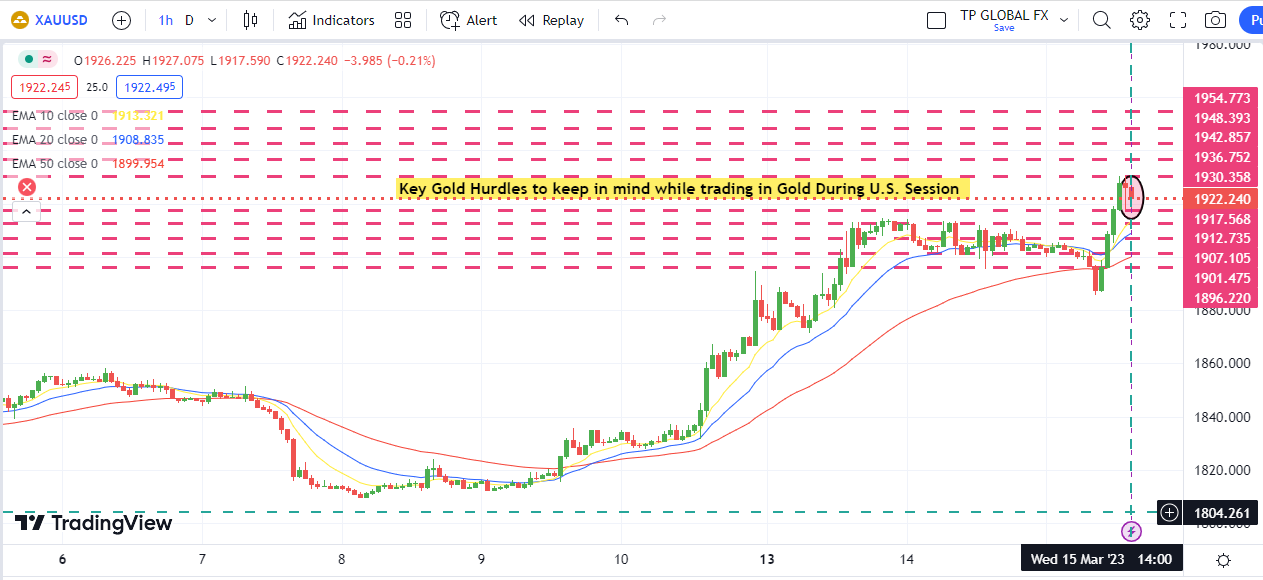 Gold strengthens extremely as U.S. released key economic data with negative numbers.
The pair made intraday high at $1,930 and Low at $1,885 mark.
A day chart and H1 chart with triple EMA suggest up trend for the time being.
A sustained close above $1,930 on H1 chart requires for the upside rally.
Alternatively, a consistent close below $1,917 on H1 chart will test further supports.
| | |
| --- | --- |
| Supports | Resistances |
| $1,917 | $1,930 |
| $1,912 | $1,936 |
| $1,907 | $1,942 |
| $1,901 | $1,948 |
| $1,896 | $1,954 |
| $1,891 | $1,960 |

Key Headlines for the FX market:
U.S. Retail Sales stands at -0.4 pct vs 3.2 pct previous release.
U.S. PPI stands at -0.1 pct vs 0.3 pct previous release.
U.S. Empire State Manufacturing Index stands at -24.6 pct vs -5.8 pct previous release.
UK finance minister Jeremy Hunt is due to announce the government's budget and reveal how he will try to speed up the world's sixth-biggest economy after the shocks of Brexit, a heavy COVID-19 hit and double-digit inflation left it lagging behind its peers.
European Central Bank policymakers are still leaning towards a half-percentage-point rate hike, despite turmoil in the banking sector, as they expect inflation will remain too high in coming years, a source told Reuters. Investors had begun to doubt the ECB's commitment to another big rate hike after the collapse of SVB.
China's economic activity picked up in the first two months of 2023 as consumption and infrastructure investment drove recovery from pandemic disruption, despite challenges of weak global demand and a persistent downturn in the property sector.
The US military said a Russian fighter plane clipped the propeller of one of its spy drones and made it crash into the Black Sea. Russia's defense ministry offered a different account of the incident and its ambassador to the United States said his country viewed it as a "provocation".
South Korean President Yoon Suk Yeol will visit Tokyo tomorrow for a summit with Prime Minister Fumio Kishida. South Korea's willingness to resolve historical disputes in the name of improving relations with Japan is largely driven by concerns over North Korea's growing capabilities, and managing any rivalry with China, officials and analysts say.
Source: Reuters
Keep an eye open for the latest news and fundamentals affecting the FX markets.
Take a look and do trade wisely!
Good Luck